Minimalist types, look away now. Serendipity*, the 1970s Jones machine we found dumped in a hedge last week isn't our only sewing machine, in fact we've got a whole family of them!
Is it just me or does it seem like half the world is gripped by some sort of mania? The constant need to edit, declutter and simplify. Sod that. I don't need to give all my possessions away in order to think straight. My mind works perfectly well despite having two wardrobes crammed with vintage dresses, numerous overflowing bookshelves, a shed full of vinyl and more jewellery than a jewellery shop, ta very much.
I'm maximalist and proud. Viva variety, that's what I say. Hence owning five vintage sewing machines, obviously!

I'm not alone in my love of vintage machines, am I? I've loved hearing about your machines in the comments and over on Facebook


Here's my 1970s New Home, bought from a jumble sale for a fiver. Before the arrival of this machine I used a modern Toyota which got donated to the charity shop once I'd mastered this one (bizarrely the shop priced it at more than I'd originally paid for it). Lately the thread keeps snapping and having eliminated all other options I've come to the conclusion that the tension spring needs replacing which I'll search eBay for once the festival season is over, there's no way I'm dumping this baby in a bush!
This dinky number came from a car boot sale at the tail end of last Summer. The pork scratching man abandoned his stall to ask if it was a Frister Rossmann (it is) and asked how much it cost. He thought £10 was a good deal - I agree. We'd owned it for months before we used it as neither of us could figure out how to thread it - now Liz has given us a lesson Jon's claimed it. Long time readers may remember his previous sewing machine (
HERE
) which he had to abandon after it went up in smoke.
When I first started blogging I was amazed by how many bloggers got excited over buying manual Singer machines at vintage fairs. With over 36,000,000 produced by the Singer factory in Scotland between 1884 until 1943 I assumed that every home in the UK had one, at least everyone I know did (unless that says more about the kind of people I hung around with). The model above was the one Jon grew up with. It skinnied up many a pair of jeans back in his punk youth.
This is the machine I remember from my childhood and an older model than the previous one. When I was a teenager I'd transform many a jumble sale find into something far more me (ie., a bit weird) to wear to the school disco.
The new-to-me Jones did me proud this weekend. Not only did I get my 50 vintage fabric wired headbands made but I whipped up some sumptuous red drapes from a huge bolt of fabric we found going for a song in a chazza recently to add a bit of drama to the Kinky Melon stall.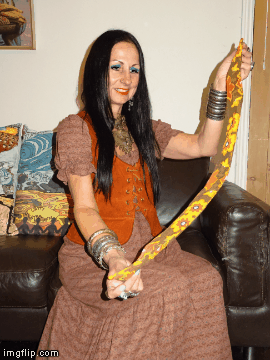 There you go, Bonnie!
Sewing goddess
Sue
asked if I'd used a pattern or drafted something from a ready made one to make my headbands. Neither. The ones I'd seen in shops were a bit small and feeble looking, I wanted something with shaped ends - as opposed to blunt ones - and large enough to twist around a few times so it could be worn with the ends sticking up (like a head scarf) or tucked in (how I wear mine, turban style). Using a 1970s dressmaking pattern for a tie-back halterneck dress for inspiration, I sketched out something similar on draft paper, adapted to fit all head sizes (including my mahoosive one).
WEARING: Vintage 1970s Dove Clothing Company cotton maxi dress (99p, Sue Ryder Clearance Shop), 1960s lace-up suede waistcoat (Birthday present from Liz), 19th Century Indian tribal neck piece (last seen HERE)
We're off to Towersey Festival on Wednesday. Despite it going for a whopping 53 years we never been but I've heard good things. You never know, maybe the lovely Newton Faulkner will pay us a visit... stranger things have happened!
Linking to Patti & the gang for
Visible Monday
.
See you soon!